In the early eighties he worked on an Air Force BASH Team in Nevada (Tonopah Test Range Airfield). He was the first recipient of the newly created SPA (Special Purpose Abatement) permit ever issued by the USF&WS in Dec 07. He also serves as the current President of the Texas Association of Avian Abatement Professionals (TAAAP), a group that was recently formed in his home state of Texas to promote the ethical use of raptors in the Texas bird abatement industry.


Non-resident falconry and hunting licenses are required in all states (other than Texas where we are based). Some states require raptor import and export permits as well as pest control licensing.
Fal-Tech, Inc. coordinates with each state to obtain the required licenses and permits.
US FISH AND WILDLIFE SERVICE - SPA PERMIT SPECIAL PURPOSE ABATEMENT- USING RAPTORS
This permit was not available before Dec 2007. Roger Crandall of Fal-Tech, Inc. (Falconry Technologies) is the first recipient of this permit.
The significance of this permit is that it allows licensed master class falconers to use native captive bred hawks or falcons to do bird abatement (or dispersal) and receive compensation.
Fal-Tech, Inc. is fully insured and licensed.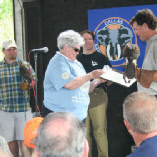 Roger and Cujo receiving award from the Dallas Safari Club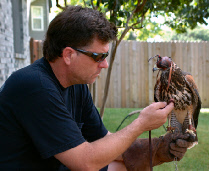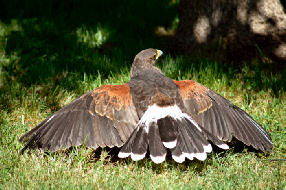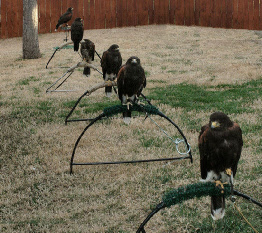 Roger Crandall is the owner/operator at Fal-Tech, Inc (Falconry Technologies). He has been a practicing falconer since 1976 and has flown a variety of hawks and falcons in a half dozen US states.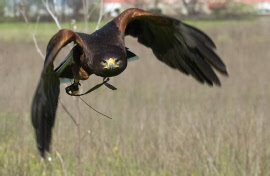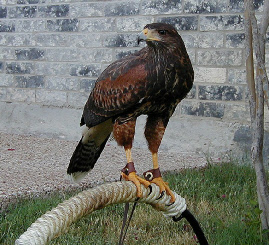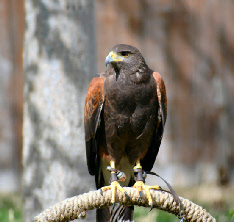 The Fal-Tech bird control team includes only licensed and experienced General Class and Master Class falconers that are experts in bird abatement, roost dispersal and trapping techniques.
Roger Crandall (owner) -Master Falconer
Sheldon Nicolle - Master Falconer
Noel Murphy - Master Falconer
Ryan Sandstrom - Master Falconer
Patrick Johnston - General Falconer