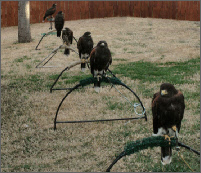 THE TYPE OF BIRD CONTROL WE PROVIDE IS VERY
SPECIALIZED.
Nighthawking (or flying hawks at night) using the very diurnal Harris Hawk is a learned behavior that requires many hours of hard work. It takes most of a roosting season to develop this talent in each of our hawks. In the end we offer a highly experienced team of hawks and falconers to disperse even the largest roosts.
Using hawks for Bird Control (Video)
This 8 minute video explains the benefits of using hawks for bird control. The first half point out the many health hazards to humans caused by roosting birds, while the second half includes footage of Roger Crandall and FalTech falconers flying their Harris Hawks at nuisance birds at a North Texas Refinery refinery, as well as other locations.


THE SPECIES OF HAWKS WE EMPLOY
There are many species of raptors worldwide. Amongst these raptors, only a small number are suited for use in the sport of falconry, and of these, only a few species are suited to nighthawking, the type of bird control we provide.

THE CAPTIVE BRED HARRIS HAWK MAKES THE PERFECT CHOICE
They are a hardy, social species that is intelligent and easy to train and handle. All of our Harris Hawks love to go to work at night and are very effective at dispersing winter roosting starlings and grackles.
Falconry is a highly specialized art - nighthawking is a specialized form of falconry.
At Fal-Tech Inc, nighthawking is our specialty.

WE CAN ALSO DISPERSE PIGEONS IN AIRCRAFT HANGERS AND SMALL BUILDINGS OR ARENAS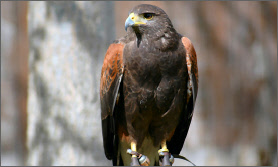 Our hawks can be very effective at clearing common pigeons in enclosed spaces. With Harris Hawks, pigeons are always on the menu. Where pigeons occur in an outdoor environment, falconry becomes much less cost effective tool. Pigeons being very swift are difficult to catch in open airspace.
We offer several pigeon trapping programs to fit your individual needs.



ADDITIONALLY WE USE 50-100 MW GREEN LASER
POINTERS
to "herd" nuisance birds out of dangerous areas into more hawk friendly areas, where they can do their job. We also use them as a tool on nights when inclement weather prevents us from safely flying our hawks.
At Fal-Tech, we specialize in moving large night time winter roosts of grackles, starlings, cowbirds and crows .

We also offer several pigeon trapping programs to fit your individual needs.

We incorporate modern technology, including Laser Pointers, to disrupt roosts.

We work with you and to form an integrated pest management system to eliminate your pest bird problems.

Once our team checks into your facility, the nuisance birds start checking out.

Contact us to confirm our reasonable, competitive pricing.